Le "livre merveilleux", né en 2005 via un concept étonnant, arrive enfin sur Playstation 3 accompagné d'un titre magique, Book of Spells. Entrez dans le monde merveilleux d'Harry Potter muni de votre baquette magique et affrontez les forces du Mal à coups de sort féerique. Sony nous a conviés dans l'enceinte d'un château aux murs épais et humides, où quelques magiciens nous attendaient pour se délecter de notre ignorance. "Saviez-vous invoquer un sort de feu, un sort de glace ou ouvrir des portes à distance ?" était l'une des questions auxquelles nous n'avions pas les réponses. Tant mieux nous direz vous, puisque nous étions ici pour apprendre.
Wonderbook : Book of Spells, le livre merveilleux
Nous prenons rapidement place sur un banc entièrement constitué de bois, tout en essayant de nous remémorer les contes angéliques que nos aïeux auraient pu nous narrer ... en vain. Puis, alors que notre curiosité se mêlait à l'appréhension, le "livre merveilleux" est apparu devant nos yeux. Ce dernier, appelé "Wonderbook", est en fait une brochure en carton de 12 pages intégrant différents codes. Impossible à lire à l'oeil nu, il faut attendre que le Playstation Eye nous décrypte les informations pour que l'ouvrage prenne vie. Ainsi, alors que nous avons devant nos yeux de simples feuilles, c'est un monde qui commence à s'agiter dans l'écran de notre télévision. La réalité augmentée est ici relativement bien retranscrite et ne souffre de quasiment aucun défaut. C'est en saisissant notre baquette magique, représentée IRL par le PS Move, que nous pourrons commencer l'histoire ...
Bienvenue dans le monde d'Harry Potter
Qui dit magie dit sorcier. Et qui dit sorcier dit ... Harry Potter ! Sony s'est donc débrouillé pour travailler en collaboration avec la romancière J.K. Rowlings, créatrice de l'univers gravitant autour de Poudlard, pour ce titre cabalistique. Nous incarnons donc un apprenti magicien, apprenant de nouveaux sorts grâce à ce fameux livre. Composé de 5 chapitres, eux-mêmes divisés en deux parties chacun, l'ouvrage permet d'apprendre pas moins de 20 enchantements différents. Incantation de feu ou de glace, chacun d'entre eux nécessite de réaliser une forme géométrique dans l'espace, à la manière de Ron Weasley ou Hermione Granger dans la saga d'Harry Potter. En complément, il faudra également invoquer le sort à la voix, comme le fameux "wingardium leviosa". Chaque partie permet d'apprendre deux sorts. Ces derniers sont à chaque fois illustrés par une petite histoire régulièrement contée dans un théâtre de papier "sortant" du livre. Après la phase d'apprentissage, où l'on doit réciter les charmes ou maléfices grâce à la voix ou à la gestuelle, une phase de mise en pratique s'offre à nous. De petites épreuves permettent alors de juger nos performances de sorcier. Puis, en conclusion, un score nous est délivré accompagné d'une récompense.
Une âme d'enfant
Évidemment, Sony mise ici sur les 6-12 ans pour s'arracher le Wonderbook. Le titre dispose également de plusieurs commentaires intelligents permettant aux enfants de faire la part entre le réel et le virtuel. Par exemple, alors qu'un objectif nous demande de brûler des animaux en papier, le narrateur insiste sur le fait que ces derniers sont constitués uniquement de feuilles et qu'il ne faut pas faire la même chose sur les êtres vivants. Un petit plus que les parents apprécieront. Néanmoins, ce Book of Spells peut être également amusant pour les adultes, fans d'Harry Potter ou non, même si la durée de vie particulièrement courte pour une personne de plus de 15 ans (à peine 5 heures, 7 heures pour les bambins) pourra en freiner plus d'un.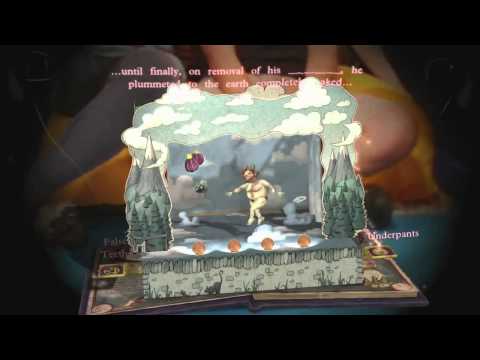 La lecture c'est pas ton truc ? Résumé pour toi...
Wonderbook : Book of Spells est l'agréable surprise qui vient compenser les sorties majeures de cette fin d'année. Agréable, à la prise en mains intuitive et amusant, voilà un jeu sympathique qui devrait ravir les petits comme les grands. De plus, sachez que le livre qui est fourni dans le pack avec le jeu servira pour d'autres titres à venir ... c'est donc le moment de faire l'investissement !